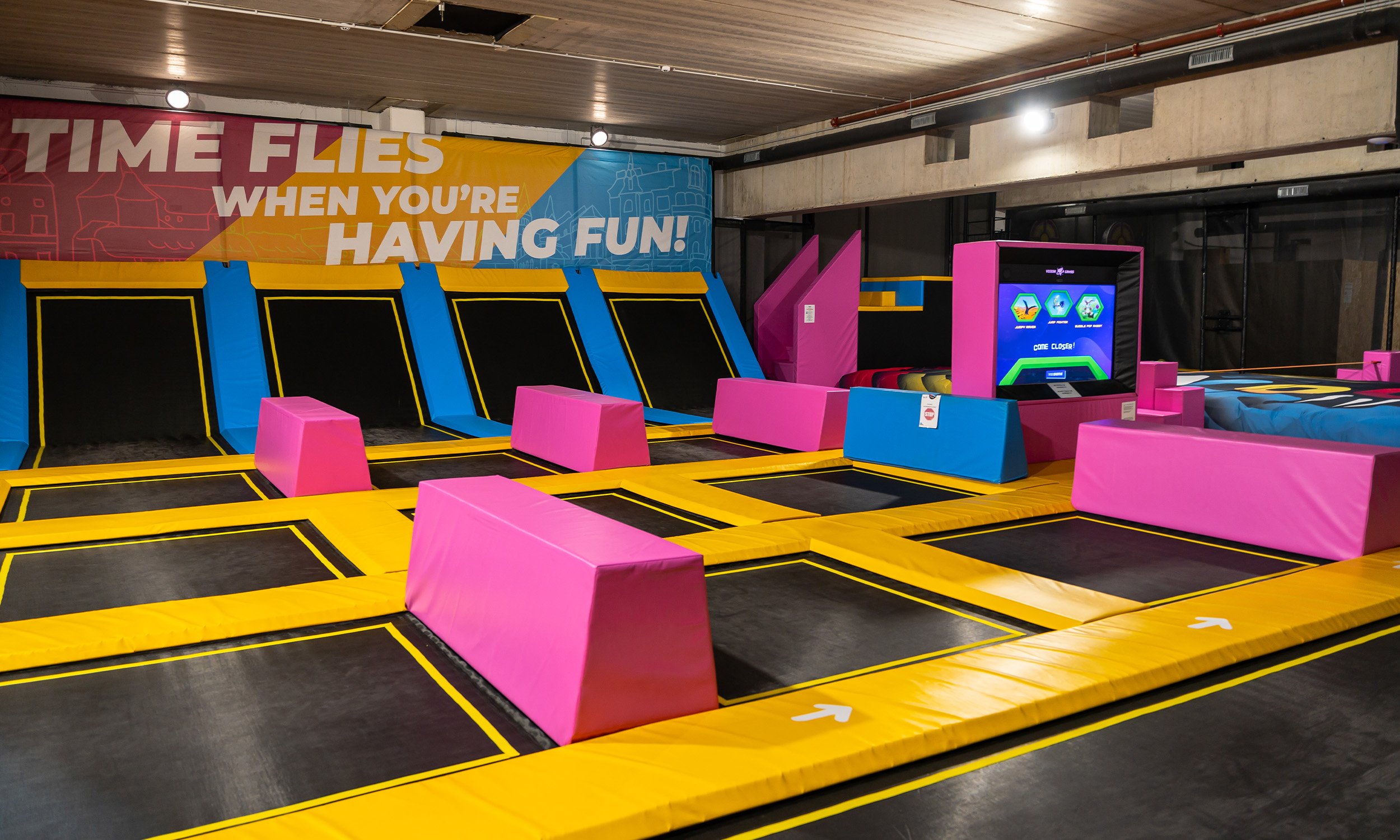 The most exciting WOOP! attractions, the best birthday parties and a spectacular WOOP! bar. Maribor caught the WOOP! fever, get ready to join the hype.
A new WOOP! location with trampolines, escape rooms, VR arena and more
Jump into a world of adrenaline and fun! Need some ideas how to spend a fun-filled afternoon (morning, or even full day) with friends, family or coworkers? WOOP! is your destination. WOOP! Maribor is a completely new arena of fun at Supernova Maribor Tržaška shopping centre. Kids and adults, everybody have tons of fun at WOOP!
The fun-tastic arena including 4 adrenaline packed escape rooms, a big trampoline park, virtual reality (VR) and a special neon Glow in the dark mini golf course* has already become the best destination for action-packed and fun-filled leisure activities in Maribor. Every day can be an adventure, at WOOP! the fun never stops.
There is also a WOOP! bar offering an excellent selection of drinks and snacks to players and casual visitors. The bar can be booked for private events alone or in combination with your favourite WOOP! attractions. Perfect for out-of-the-ordinary business meetings, teambuildings or afterwork parties.
Looking for ideas how to make kids' birthday unforgettable? WOOP! birthday parties are always a hit! From jumping on trampolines to animation and refreshments, WOOP! organizes a perfect birthday party for kids from 6 years on.
*Glow in the dark mini golf will be available from autumn 2023.
WOOP! is a fun park of happy people
WOOP! is much more than a trampoline park with many other fun attractions. It is a space offering safe fun for the whole family, adrenaline rush and high energy. The WOOP! team brings to visitors a new way to socialize, making it active, fun and directed to personal growth. In the WOOP! world of fun you can find a huge trampoline park with over 102 trampolines, WOOP! Arena with bowling alleys, escape rooms, laser tag, and VR experiences, WOOP! karting, WOOP! IZZIVI challenges at Supernova Ljubljana Rudnik, Supernova Maribor Tržaška and a special WOOP! space at Murska Sobota.
WOOP! supports healthy and active lifestyle immersed in fun, also giving a lot of emphasis to make kids more active. It offers an inclusive environment for people to get loose, play and enjoy themselves in pure fun. Despite being high adrenaline, all WOOP! experiences are completely safe with high-quality equipment and qualified staff overseeing all premises. WOOP! is also the home of the acrobatic group Dunking Devils, who use the WOOP! arena to train and plan all their unbelievable stunts.